Our Story
Belle Enfant was founded in 2012 by Fleur Vidler and Henrietta Newman, who shared a vision to create
an understated yet refined range for babies: one that celebrated natural materials and exquisite
craftsmanship while elevating the everyday.
Their combined experience, as mothers but also as modern consumers, was the driving force behind the
simple yet elegant edit of skincare, clothing and homeware. Designed in-house, collections drew upon
their own aesthetic – of clean lines, tonal hues and unrelenting attention to detail - resulting in a sought-
after range of babywear: from cashmere sets and delicately-printed bedding, to the soft orange blossom
scented Belle Enfant Beauté range. An emphasis on living beautifully - and thoughtfully - is at the heart of
all of these collections, with products designed to enhance daily routines and experiences.
 
Motivated by an awareness of social responsibility, Belle Enfant has embraced timeless styles that are
rooted in longevity, while its Belle Enfant Beauté range champions plant-based ingredients and recycled
packaging. The result is a mindfully crafted collection of newborn essentials that are kind to their planet;
designed to be loved for years to come.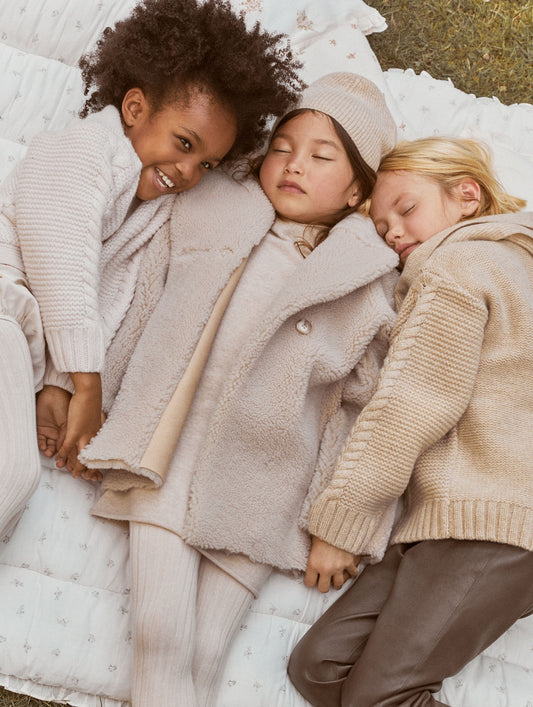 Belle Enfant was born out of our own life experiences. As mothers, we also know that the earliest days of infancy are incredibly special – and we strive to offer skincare, babywear and homeware that elevate this time. When creating collections, it is important to us that we imagine how each product or piece will fit into our modern lifestyles – ensuring that what we produce is rich in both quality and purpose.
As consumers, we understand the small ways that a brand can create a memorable customer journey. Every element - from the hand-illustrated cards that accompany your purchase, to the delicate orange
blossom fragrance that scents our packaging – has been thoughtfully considered, to enhance this experience. We love to hear from our customers: to share in their stories, but also to learn more about
how we can continue to improve and inspire.
 
We have long supported like-minded businesses – those that champion honesty, open-mindedness and an uncompromising commitment to quality. We are proud of the relationships that we have built with our manufacturers and suppliers, and believe passionately in progress: in continuing to move forward, and in seeking out newer and more mindful processes that reflect the Belle Enfant ethos.
Fleur and Henrietta x
Belle Enfant is a beauty and lifestyle brand, designed to elevate the earliest days of infancy.
Simple yet elegant, every element has been carefully considered: from our delicately fragranced range of skincare, which recalls that evocative "baby" scent; to our consciously-crafted cashmere and items for the home. With a focus on natural materials and ingredients, uncompromising attention to detail and exceptional quality, Belle Enfant's collections are intended to enhance your baby's daily routine: from their first waking moments, through bath-time and finally, in preparation for bed. Pieces are made with love: an homage to the joy of childhood – as well as the sweet nostalgia that time slowly brings.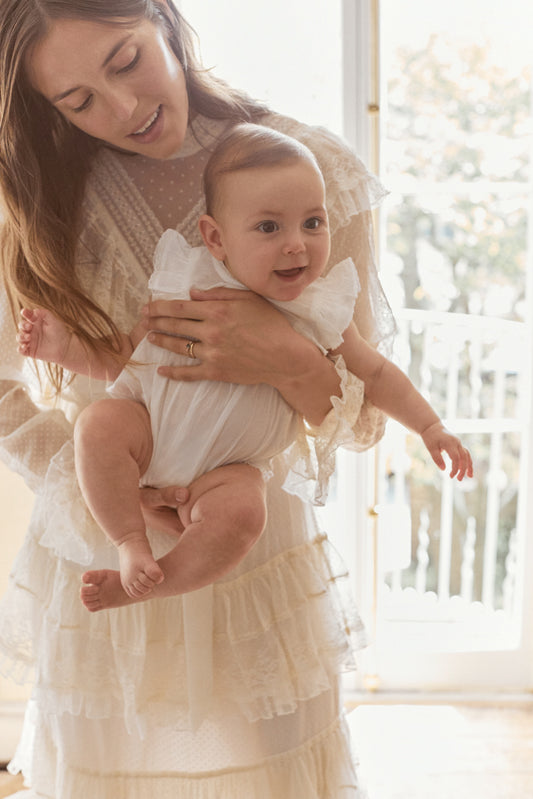 SUSTAINABILITY
Sustainability is the thread that runs through each collection at Belle Enfant: from our delicately- fragranced skincare and scent, to our consciously-crafted cashmere.
Inspired by nature, our plant-derived range of skincare places an emphasis on transparency and simple formulations. Being kind to newborn skin is important – but so too is being kind to our planet. For this reason, Belle Enfant Beauté products are contained within recyclable glass and plastic bottles composed of 30% post-consumer recycled content, while bespoke cotton-voile bags are created from the off-cuts of unused fabric.

Our babywear and items for the home are consciously sourced. Produced in small runs, to minimise
wastage and encourage mindful consumerism, every step in their creation is carefully considered -
resulting in products that are rich in quality, but also in purpose. Meanwhile, an emphasis on longevity rejects season-driven design: ensuring pieces that can be loved by generations to come.

Belle Enfant believes in supporting small factories and celebrating the artisans who bring its pieces to life, whilst also giving back to local communities through charitable donations. However, it also strives to be authentic: to think differently, and to adopt a slower, more sustained approach. In doing so, it has quietly established itself as a brand with vision, integrity and - above all - intent.